MISES A JOURS FIRMWARE (VERSION PEDALIER)
Dim 25 Oct 2015 - 2:19 par Alexdreamworld
Dernières mises à jour et corrections en date:
Helix Firmware v2.54 Release Notes
Nouvelle mise à jour sortie le 22/03/2018!
H E L I X 2.54 Release Notes

Bug Fixes
- Pop noise can occur when exiting Tuner in four cable method setup with FX loop block engaged and audio playing upon entering and exiting Tuner -FIXED

-In rare cases, Helix AES clock/audio/SPDIF can glitch and/or drop every 40-60 mins -FIXED

- other bug fixes and improvements

Known Issues
- No CC Toggle MIDI data is sent when changing between different Snapshots that feature CC Toggle command assignments in Lit state

- In rare cases, a crash can occur when creating an Input or Output in HX Edit (moving split/join to B path) while having a None block selected

- In rare cases, PC messages are sent after Instant Commands on preset load, resulting in perceived delayed response by the device receiving MIDI

- Shuriken Variax bank names will not appear in firmware until Helix is connected to a Mac/PC and Workbench …
Commentaires: 0
MISES A JOURS LOGICIEL EDITEUR WINDOWS et MAC
Ven 30 Oct 2015 - 18:58 par Alexdreamworld
HX Edit v2.52 Release Notes
Nouvelle mise à jour sortie le 22/02/2018!
HX Edit 2.52 Release Notes

HX Edit 2.52 is a software update that includes fixes, stability improvements, and optimizations. It is highly recommended that all Helix users perform this update!

Bug Fixes
- A block's Bypass MIDI IN assignment is also deleted when clearing a controller assignment in Bypass/Controller assign menu-FIXED
- A block's Bypass MIDI IN assignment is reset to OFF after entering EDIT menu and then returning to the Bypass/Controller assign menu-FIXED
- [HX EFFECTS] Exporting/importing preset may not preserve path B output destination-FIXED
- Right-click to Restore Split or Merge does not return block to last position-FIXED
- Not all Bypass MIDI In assignments are deleted after selecting Clear All Assignments in Bypass/Controller assign menu-FIXED
- General stability improvements
- Other minor bug fixes and optimizations

Known Issues
- Helix LT: Changing a presets name from HX Edit is not immediately …
Commentaires: 0

D'après les informations un nouveau pédalier Line 6 Helix version Lite vient dans une gamme plus simplifié de l'HELIX.
Voir lien officiel Line 6:
http://line6.com/helix/helix-lt.html
Il sera logiquement en remplacement du fameux Line 6 HD500X qui date maintenant depuis pas mal de temps.
C'est la suite d'une demande sûrement faite pour répondre a des attentes d'utilisateurs qui n'ont pas forcément besoin de toutes les fonctions de l'HELIX en version Standard que l'on pourrait appeler.
Pour le tarif il serait proposé en dessous les 1000 Euros aux vus des différentes sites consultés.
Voici les informations connus à ce jour sur le site de Line 6 ci dessous:
http://fr.line6.com/helix/helix-lt.html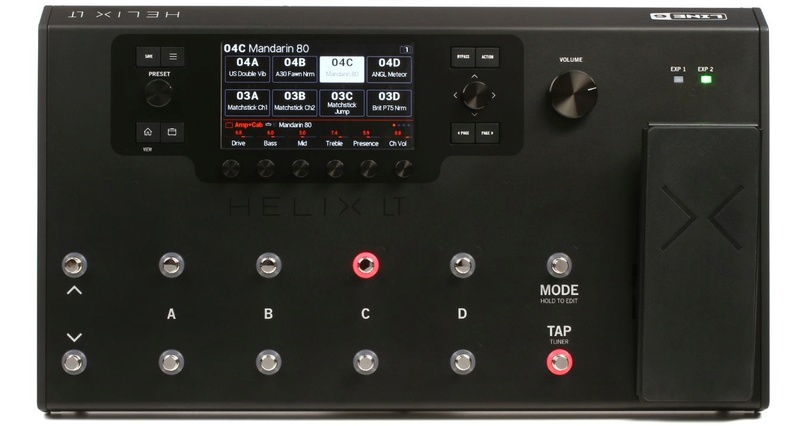 Tech Specs:
Pedal Type Multi-FX Guitar workstation
Number of Effects 70 (expandable with firmware updates)
Amp Modeling Yes
Number of Models 50 amps, 30 cabs, 16 mics
Looper 60 seconds (mono full speed), 30 seconds (stereo full speed)
Inputs 1 x 1/4" (guitar), 2 x 1/4" (returns)
Outputs 2 x XLR (main out), 2 x 1/4" (main out), 1 x 1/4" (headphones), 2 x 1/4" (sends)
Digital Outputs 1 x XLR (AES/EBU, L6 link)
MIDI I/O In, Out/Thru
USB 1 x Type B
Other I/O RJ 45 (Variax)
Expression Control Built-in, 1 x 1/4" (second expression pedal in)
Compatibility Mac, PC
Power Source Standard IEC AC cable
Height 3.7"
Width 20.9"
Depth 12.45"
Weight 12.45 lbs.
HELIX LT FAQ

Is this real or some sort of sick April Fools' Day joke?

Helix LT is Helix's very real, more affordable little brother. Helix, Helix Rack/Control, and Helix LT all have the same DSPs (2x 450MHz ADSP-21469 SHARCS), modeling engines, models, A/D/A converters, op amps, and patented Guitar In with 123dB of dynamic range. They are sonically identical.


Compared to Helix, the differences with Helix LT are:

No scribble strip LCDs (middle eight footswitch assignments appear on Helix LT's new colorful Performance view)
Fewer Ins and Outs:
2 Sends/Returns as opposed to 4 (can be stereo linked)
No mic preamp
No Aux In
No S/PDIF In/Out
Exp 2 In and dual Ext Amp Out share a single jack (function is globally selectable)
No Exp 3 jack
No CV Out jack
Less expensive chassis:
Folded steel top chassis as opposed to extruded aluminum
Folded steel expression pedal as opposed to cast aluminum
Impact-resistant ABS side panels with rubber overmolding (like those on Helix Control) as opposed to cast aluminum side panels
No separate Phones knob (headphone volume is controlled by main Volume knob)
No 10 Stomp footswitch mode; Stomp mode is limited to 8 switches
Pedal Edit select view displays 8 blocks at a time instead of 10
Registered Helix LT owners can purchase the Helix Native plug-in for $299 (normally $399; registered Helix and Helix Rack owners get it for $99)

So IR loading, Snapshots, Command Center, hands free Pedal Edit mode, up to 4 amps at once… all that stuff is included?

Yes.

Can I still custom label my footswitches?

Sure; any custom labels appear in Performance View.


Okay, but what about [feature or model found in Helix]?

Read the top question again. If it's not mentioned in the list, it's in Helix LT.


Will there be an editor?

There's already an editor. The same Helix application works with Helix, Helix Rack/Control, and Helix LT. Just update it to version 2.20.


Can I use Helix or Helix Rack presets in Helix LT?

Yes. Presets are fully transferrable between Helix, Helix Rack/Control, Helix LT, and the Helix Native plug-in.


Will Helix LT receive updates along with Helix and Helix Rack/Control?

That's the plan.


Where are all the audio clips?

There are already hundreds of clips, as Helix LT sounds exactly like Helix.


Is Helix LT much smaller and lighter than Helix?

Not really—it's about an inch narrower; depth and height are about the same. Helix LT is 2-1/2 pounds lighter (12.0 lbs vs. Helix's 14.6 lbs); it'll fit perfectly in Helix Backpack.


If it's not that much lighter, what does LT stand for?

Leo Tolstoy


Any plans to add LT's Performance View to Helix and Helix Rack/Control?

Most likely not, as the scribble strip LCDs accomplish the same thing.


You guys busted this one out pretty quick, huh?

Development on Helix LT began before Helix and Helix Rack/Control were even announced.


What's the price?

$999.99 US MAP.


What's the population of Slovenia?

2.06 million.


What's the release date?

April 3, 2017. So now.


Wait. "Now" as in I might be able to call my dealer and snag Helix LT today?

Yes.


Sujets similaires
---
Permission de ce forum:
Vous
ne pouvez pas
répondre aux sujets dans ce forum